Boston Cyberarts Festival
---

George Fifield, the main organizer of our Hi-8 Users Group and editor of its newsletter Focus Hi-8 (and later the Focus Video newsletter for DTV Group) founded the Boston Cyberarts Festival in 1999. Bob and Derek Doyle built the Events Calendar for the 2001 festival with their skyBuilders timeLines software. The Event Calendar was highly interactive, able to sort the various events in several ways and present detailed descriptions of the selection. These details were then used to create a print calendar for the Boston Phoenix. The Calendar is still online with an interactive database of over 1000 events. To try it out, click on the Event Calendar. Click on Locations, then Back Bay, then April 27 to see that day's listing.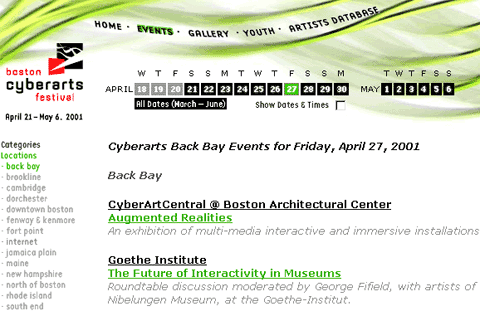 Cyberarts entered the events in their skyBuilders Events module, using the standard timeLines user interface. But the presentation of the events is through a custom HTML/Javascript user interface called a "skyLight" or "skin." Behind the scenes, skyBuilders timeLines is running normally. But the look of the festival events schedule is the work of a Boston University web design team led by Agnes Borszeki. Check it out here. Here is the same information as it looks in the timeLines listing interface.

Each event had a description in the database that could be expanded in a Details window. To try this, click on Exhibitions, then for April 27 you will see: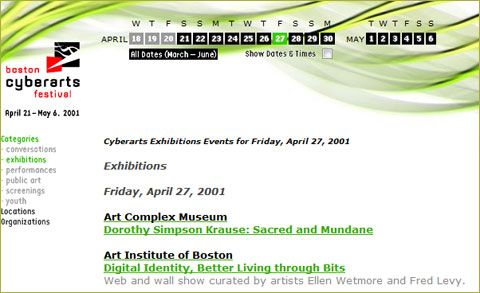 If you now click on the Dorothy Simpson Exhibition at the Art Complex Museum, you see the Details on this event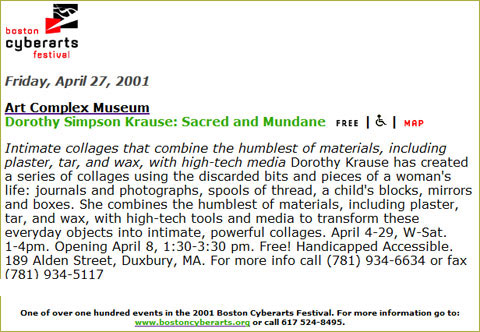 The output of the calendar was uploaded to the Phoenix magazine to provide data for the print version of the festival calendar, where these same Details then appeared in print...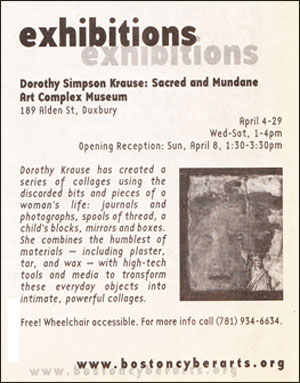 Festival staff and event organizers were able to add new events until just a few days before the Phoenix went to print. This was a powerful demonstration of structured publishing to the web and to print. Bob and the DTV Group made a wedding video for George and his bride Lynn Adams when they married at his home in Jamaica Plain. George wrote an appreciation of Bob on the occasion of Bob's Catalyst Award from Boston Film/Video Foundation.